E-BOOK: A comprehensive ebook that covers real estate marketing from A-Z. Think of it as a real estate marketing textbook. Everything from your target market, to your REALTOR® brand, your marketing foundations, and additional marketing channels are covered in the ebook in detail. After you're done reading the book (or listening to the audiobook) you will be prepared to take on the complex world of real estate marketing with confidence and style. The ebook has been prepared in various formats to fit any kind of e-reader from the Kindle to your Laptop. Not convinced? Download a sample chapter from the ebook.


AUDIOBOOK: The author of the ebook has also recorded an audiobook version for real estate professionals who absorb information better by listening than reading. The audiobook has been broken out into tracks that cover each chapter individually, and there's also a full-length version that is just over 3 hours long.

COMPANION GUIDE:
The book companion & checklist
will help you navigate the most important takeaways from the ebook itself while taking notes to prepare and plan your real estate marketing.
VIDEO INTERVIEWS:
6 video interviews with experts in the real estate industry
. In over four hours of video footage, we talk to experts about everything from real estate copywriting to real estate video marketing. The interviews are with notable professionals in the real estate industry, such as
Simon Bray
, President of REW.ca, and
Riti Verma
, Founder of RankMyAgent.com. Watch a sample clip from the interview with Simon below.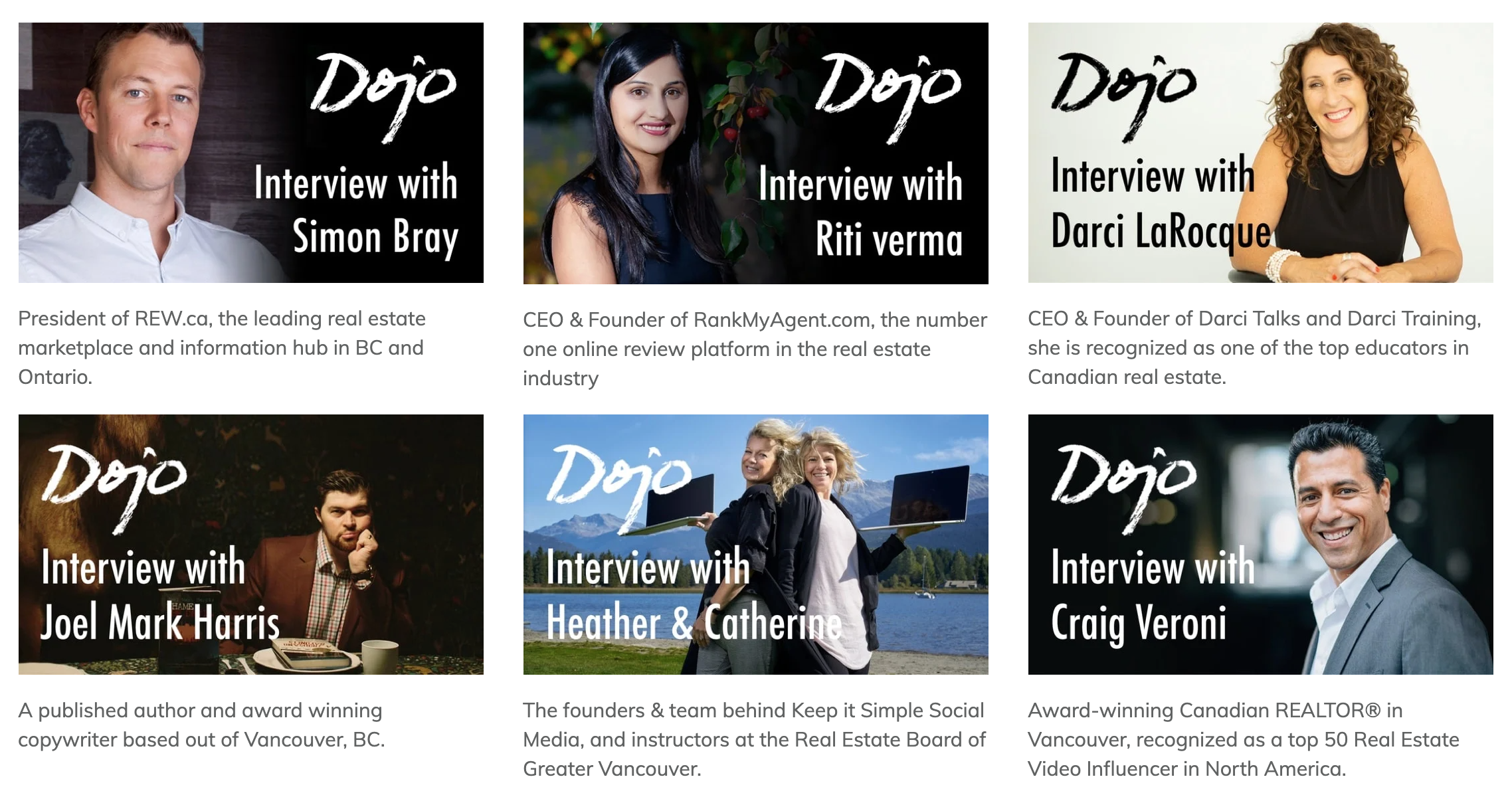 CANVA TEMPLATES:
Over 50 Canva design templates for Realtors®
. Using Canva.com, our master designers have created various customizable templates for real estate agents, ranging from listing sheets, to printable brochures, to Instagram posts and stories. You won't need any technical experience to customize these templates and use them in your real estate business. These designs speak to all types of real estate brands, and will make you look good - I mean really good! See an example below.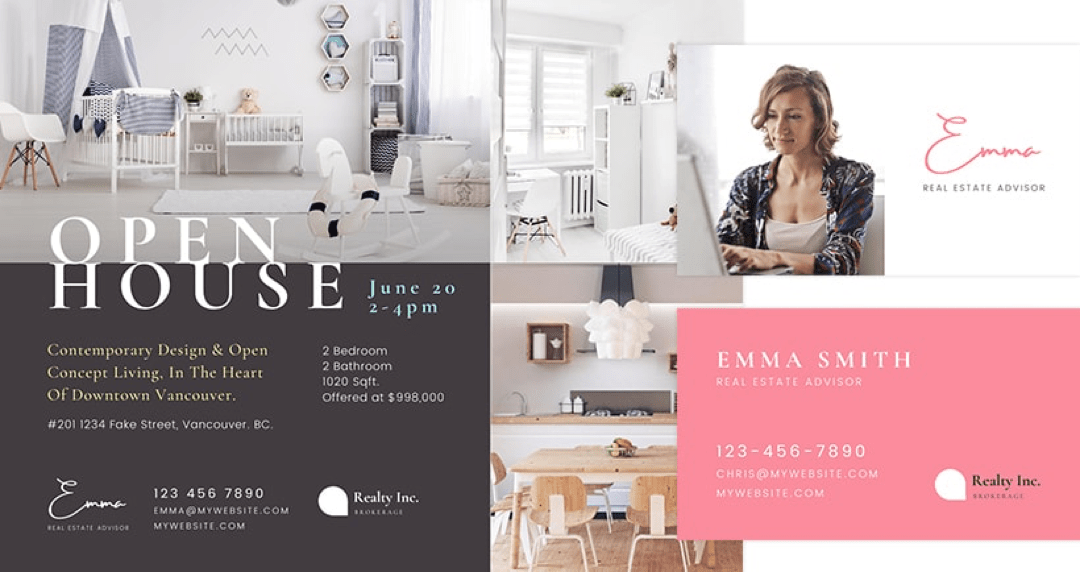 MARKETING TEMPLATES:
Also included in this package are customizable marketing templates that will help you plan and execute your real estate marketing strategy with ease, precision, and professionalism. You'll find a variety of useful marketing templates, such as a Brand Guidelines document for real estate professionals. See the Brand Guidelines template in action in the video below!
VOUCHERS & DEALS:
In addition to everything listed above, this bundle also includes unique vouchers and discounts that are worth thousands of dollars. These deals cover so much ground - from discounts on real estate branding, to printed collateral, to social media training, and much more! These vouchers and discounts alone make up for the cost of this product more than tenfold!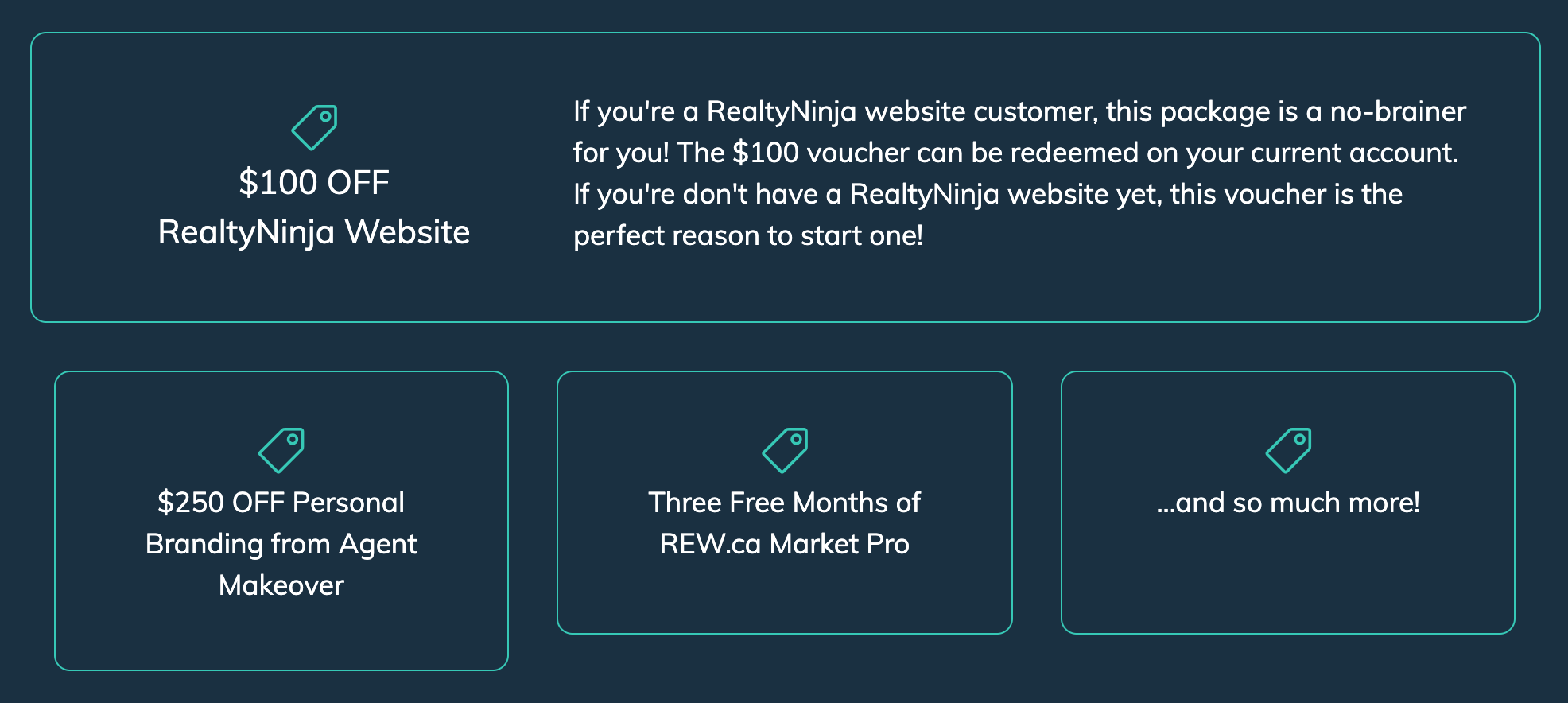 "What you've done in Dojo - The Blueprint for Real Estate Marketing Mastery, that is a labour of love. If anybody is not yet convinced they should have it, they should go and check it out. It's probably the best resource I've seen in all of my years when it comes to digital marketing in real estate."
-Simon Bray, President of REW.ca

As you can see, we've poured our heart and soul into creating an un-rivaled real estate marketing training package for North American agents. It's no wonder real estate legends such as Richard Robbins have endorsed this product.
Are you ready to take your real estate business to new heights? Just click "Buy this" on the right side of this page and put Dojo - The Blueprint for Real Estate Marketing Mastery to work for you.
Brought to you by the creators of RealtyNinja, a company that has created value for REALTORS® for over a decade!