My name is David Mendes and I have grown to 14,356 followers and made $11,062.65 on Gumroad, under 6 months of being on Twitter.
Before we go any further, here's some proof to back up my claims.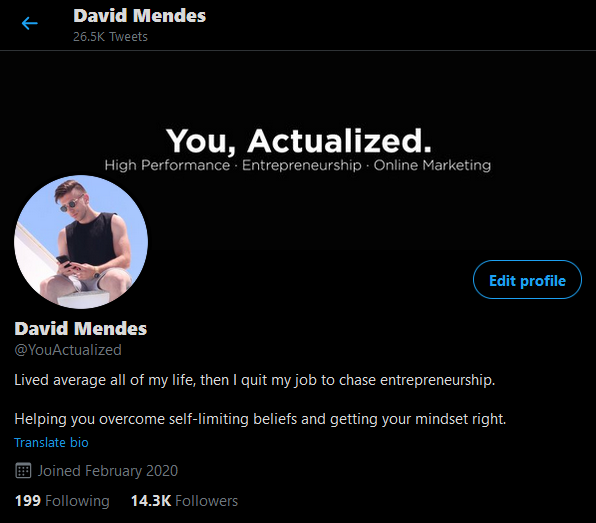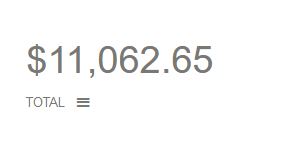 And the best part? This was all done organically.
I did not pay for Retweets, I did not pay for shoutouts, I don't use engagement groups.
Let me tell you a bit more about myself...
I'm not special by any means.
I'm just a regular 24-year-old, Portuguese guy.
Back in April, I started my Twitter account. (I had created it in February, but was skeptical about moving forward with it.)
I started putting out tweets with no expectancy of it going anywhere.
Not even 6 months later, here we are. (With some drama involved but hey, that's what makes it fun.)

Respected, connected, and paid.

Now... I know what you're thinking.
"Isn't this just another Twitter Guide?"
And to you, I reply
"Does anybody else achieved what I achieved without what I mentioned above?"
Now before, we go any further, let me give you some free game. (Apply these right now, and you'll see a major difference almost instantly.)

Tip 1: Do not be an "Hustle/Mindset/Money/Whatever Account".
Seriously, this will not get you anywhere. You will not stand out. You will not be respected.

You'll just be ignored and treated like a carbon copy of other Hustle accounts.
Tip 2: Talk about relevant topics and give out free game.
When you tweet, tweet things that are relevant to your target audience. (The people you want to attract AND create fanbase with.)
Tip 3: Be witty.
You do not need to be stiff as f*ck, and serious all the time.
Spark some personality and entertainment in there, people will respect you more for it.
Tip 4: Have a clean looking profile.
Your profile should tell a story, YOUR story.
Create something compelling, attractive and you'll have more people converting into followers and fans.
Tip 5: Be bold and controversial.
This one is only if you feel comfortable doing so, but let me tell you... Making bold claims/stances on current events and relevant topics will have people raving about you. (You'll also attract haters, who the f*ck cares what they say.)

Boom.
Just gave you all of that free game.
Now let me tell you about this masterclass, Tweet And Grow Rich.

In this masterclass, not only do I go deep on the things I already told you.

I also will lay out every single thing I know about Twitter + give you all the game into monetizing your account and making this a profitable side or main income. (you decide, really.)

Here's what you can expect inside...
Regarding Twitter Growth:
Chapter 1: Mindset and Psychology behind Twitter Growth. (Why Mindset and approach is one of the most important aspects of growing on Twitter. Value $59.)
Chapter 2: Profile optimization for optimal follower conversion. (Going deep and showing you case studies of what I mentioned up there. Value: $49)
Chapter 3: How to write Tweets that will ignite engagement and get people liking and sharing your content. (The core lesson of this book. Value: $99)
Chapter 4: My personal Twitter Growth Hacks to generate followers and bring out massive exposure to my profile. (And eyes on your offers. Value: $89)

Chapter 5: What you should not be doing on Twitter if you want to become a well-respected account. (And have people value your opinions and views. Value: $69)

Chapter 6: Tools and resources to use to automatize your Twitter and let it run on auto-pilot. (Very useful if you don't have a lot of time to put into it. Value: $29)
Regarding Twitter Monetization:
Chapter 1: How to find the *right* product that fills your audience needs and becomes a blockbuster. (This is the most important aspect when creating any product. Value: $89)

Chapter 2: The Mindset shift that you need to make that you will help you sell anything to anyone. (Without this, you'll always feel imposter syndrome. Value: $69)

Chapter 3: Why you need to be selling a transformation and not a product/service. (The most important lesson in copywriting laid out for you. Value: $79)

Chapter 4: How to become a kick-ass affiliate. (And affiliate and make cash off the best products. Value: $109.)

Chapter 5: How to become a kick-ass content/product producer. (And dominate on sales. Value: $149)

Chapter 6: Bonus lessons on Copywriting + Analyzing the game. (Crucial to maintain the pace and not let yourself slack. Value: $89)

Now, if you apply everything inside, you'll go from:
Irrelevant account.
Always commenting under other people's tweets.
Barely getting any growth or recognition.
Nobody knowing who you really are.
To
Well respected within the community.
Dominating the affiliate game.

Putting out blockbuster products.
Getting massive followers everyday.

"But how do I know all of this is true?"
Well, Tweet And Grow Rich is endorsed by some of the biggest players on the community.
Check out what they have to say.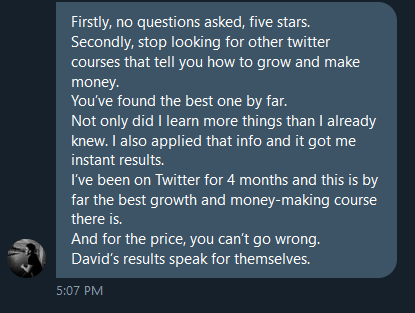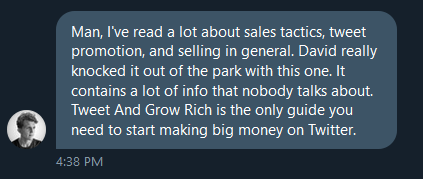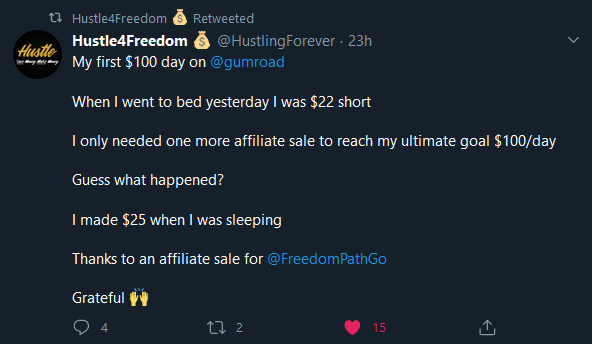 Price for you today?

As you can see, I could be charging a ton for this info.
All combined to price of this masterclass is
$397
But you won't be paying near as much today
Today, you can get it for
$27

"Wait, what? Why so low?"
I want to guarantee you get the best quality info there is on the Twitter game for a good and affordable price.
You better act quickly though, I'll be bumping up these prices soon!
For now, you can have it!

But wait! That's not all...

My personal guarantee.
Now listen, I have 3 promises to make you.
Promise number 1 - If you apply everything that I teach inside, you will grow your account at a very fast pace, you will know exactly how to monetize it, and you'll be a major success.
Promise number 2 - If you don't take action, you won't see results. (Sorry. :( )

Promise number 3 - If do take action on everything I teach you and you don't manage to see results anyway? I'll give you all of your money-back, no questions asked. (No time limit either.)

Are you ready?
Now a the decision remains...
Would rather keep wasting your time on methods that don't work while you stay stuck at a low follower account being irrelevant...
OR
Do you want to dominate the Twitter game, create an healthy income from it and become a well-respected person on the Platform.
It's your decision...

(But I know you're a doer, so what are you waiting for? lol)

Go ahead and click the "I want this!" button.
A toast to your success.