You joined Twitter because
You're not like most people (because you actually take your 20s seriously).
You want to use your energy to do something great.
You want to improve.
And while Twitter is great at telling you what to do,
Have you noticed that they're really bad at telling you HOW?
You ask how to improve yourself and your work.
Then they tell you to focus your energy.
Ok how?
Say you're struggling with money.
Then they say you need to get clients.
Ok how?
Or you want to attract women.
Then they tell you to quit porn and get fit.
Ok how?
Is it necessary to complicate such important topics?
(Spoiler: It's not. And I'll show you why in a minute.)
I used to be 40 pounds overweight. No drive. No money. And yeah, no girl.
I couldn't work on my thing because I didn't even know what was my thing!
And you know what's funny?
I already knew what I had to do ...
Lose weight, make money, become high value... All that jazz.
But I still NEVER did it.
Until I came across a very interesting concept.
One that allowed me to lose 45 pounds, get women and make 4x what my job used to pay me...
A New Way To Get Rich, Fit and Happy
Something that involves ZERO telling you what to do…
Why?
Because you already know what to do!
What changed my life around is very simple.
A concept used by thousands of men all over the world:
The HOW
A straightforward, no bullsh*t how.
A concept that will show you:
How to hold yourself accountable.How to make sure you follow through.How to cope with days when you feel like you'll fail.
That's why I'm writing to you. Because this is the exact "how" to achieve whatever you want in life.
So if you know what you have to do (but you haven't), don't worry.
It's not your fault.
You just didn't know about The Superman Challenges.


Introducing, The Superman Challenges
A short, content-dense document focused on HOW to allow $$$, abundance, health and positive momentum to enter your life.
It's very simple.
Inside you'll find 10 challenges. Challenges taken by thousands of men around the world (with remarkable results).
Pick one.
Then simply use the HOW of each challenge to get WHATEVER you want out of life in 30 days:
Money
Women
Discipline
Crushing limiting beliefs
(plus 6 more challenges I'll explain to you in a minute).
Every single challenge has the power to make you a BEAST.
So don't be surprised when people ask you "What the f*ck did you do and how can I do it too?!"
(Some people tell me they don't sleep in since. They were too excited so they just started working before everyone woke up lol).
Which Challenges?
The challenges taken by thousands of men all over the world, revealed:
SHRED FAT & BUILD MUSCLE
Make visible changes within your first 30 days that will compel you to continue.
Keep going and by 2021 you'll have people going: "holy sh*t."
MASTER A HIGH ROI SKILL
Learn a high ROI skill. Reach out to clients. Make BIG $$$.
Repeat until you buy an island.
30 DAYS OF NO FAP
No Fap will make you better with women, stronger and give you the mental and physical power to make something great out of your life.
DOUBLE ATTENTION SPAN
Unlock your focus and transform abstract dreams into tangible reality.
This is the first one I took. Can work for 2 hours uninterrupted now (pushing for 2.5!)
ACHIEVE MENTAL TOUGHNESS
Discover the mindset of the top performers in any field:
Business, sports, war... Their one thing in common?
Their mind is tough as f*ck.
30 DAYS SOBER
What 30 days sober means to you is positive momentum, self love, self respect and the joy of knowing that if you want to get something done...
You get that sh*t done.
MEDITATION STREAK
Be present. Get smarter. Allow abundance to enter your life.
Arguably one of the most important challenges.
If you're naturally restless (like me), this will make you happier in every way.
GET RID OF SOCIAL ANXIETY
Discover the stupid simple ways you can get women, make friends and network with important people.
READING STREAK
"Reading every day is what puts me in the top 0.0001%"
-Naval Ravikant
Discover how to genuinely enjoy reading (without it being a chore).
CRUSH YOUR LIMITING BELIEFS
Past wounds, limiting beliefs, false assumptions, tough childhood...
We're going to annihilate these crippling limits and give you superpowers.



PLUS A FREE BONUS
Accountability Sheet to keep momentum going, see immediate results and compel you to continue.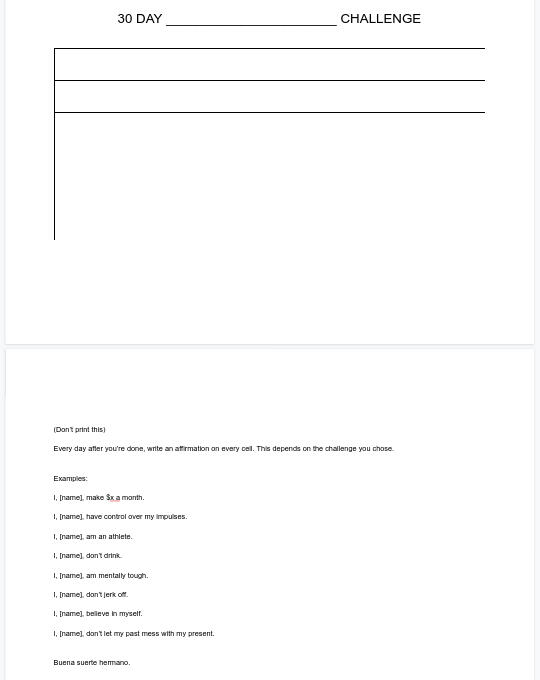 Here's The Deal:
If you pick just ONE challenge, your life will improve.
Once you know the how...
It's hard NOT to attract money, discipline, health, high energy and momentum into your life...
You could make a decision now.
In 30 days you could've achieved massive, permanent progress towards the goals that light a fire in you.
Or you could simply be 30 days older.
Which one do you want?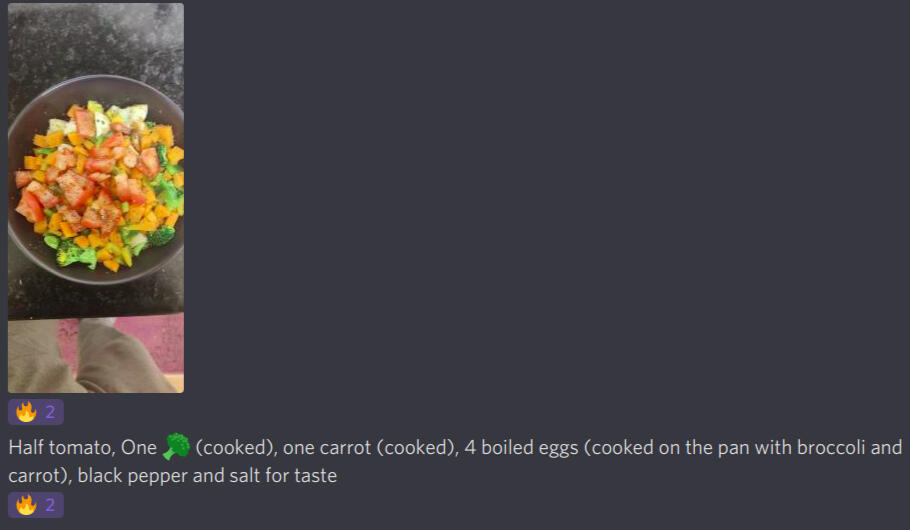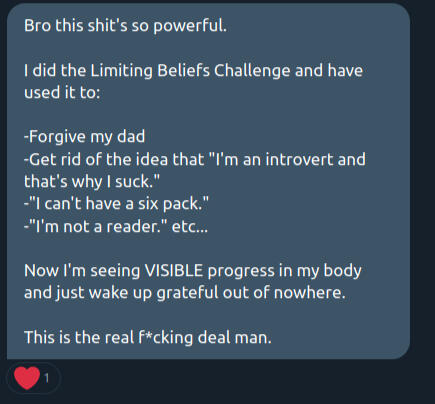 Price?
$1.
It's just $1.
(you'll spend more on a coffee today).
So, to recap:
You pay $1.
And you get access to timeless challenges that are GUARANTEED to attract health, money and positive momentum into your life.
Sounds fair enough?
P.S.
This stuff WORKS. I was 50 pounds overweight, made baby money and couldn't talk to women.
Today I'm in the best shape of my life, I quit my job because I make 4x online and I'm having trouble writing this letter because I'm getting DMs from girls lol.
Dox time: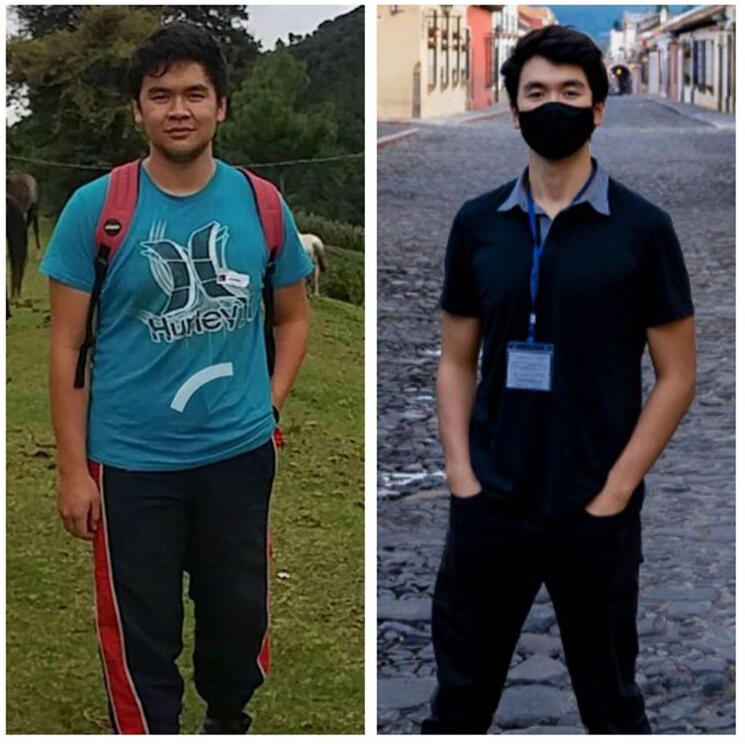 P.P.S.
I price it at $1 because it's going to motivate you to take action. Once you see what's inside, you'll call me an idiot for not charging $100.
That's ok tho.
I want to see you win. If seeing you win means leaving money on the table then I'll do it.
Click the "I Want This!" Button and Become Superman in 30 days.