In my How to Publish Your Book Facebook Group I get some version of this question more than any other. Usually, the book is written and that is as far as the author has gotten. The question is where do I start? What do I do? How do I publish my book? I have just published, now what do I do? These are really big and often confusing questions. So, let's dive in and see if I can give you some direction and the basic overview of how you can publish your book.
The Self-Publishing Secrets, Create, Publish & Launch Your Own Book From Start to Finish, is an updated for 2020 and revised version of my previous how to publish your book publication. So much has changed in the past few months. CreateSpace, which was our go-to site for publishing and selling paperback books on Amazon, has been merged into KDP.Amazon. The Self-Publishing SECRETS is a total rewrite, all updated for using KDP/Amazon/Kindle. Lots of new marketing info, more in-depth e-book info, and additions to how to launch a best-selling book.
This version is the final published version. All the updates are in and I am doing the final edits.
Watch My How to Publish Your Book Training Video
Part 1. Key Publishing Questions. Part 1 takes you through many of the basic questions that people ask about publishing their books. I talk about where to publish, what is print-on-demand, what is an ISBN number, KDP.Amazon, Kindle, and how does copyright work.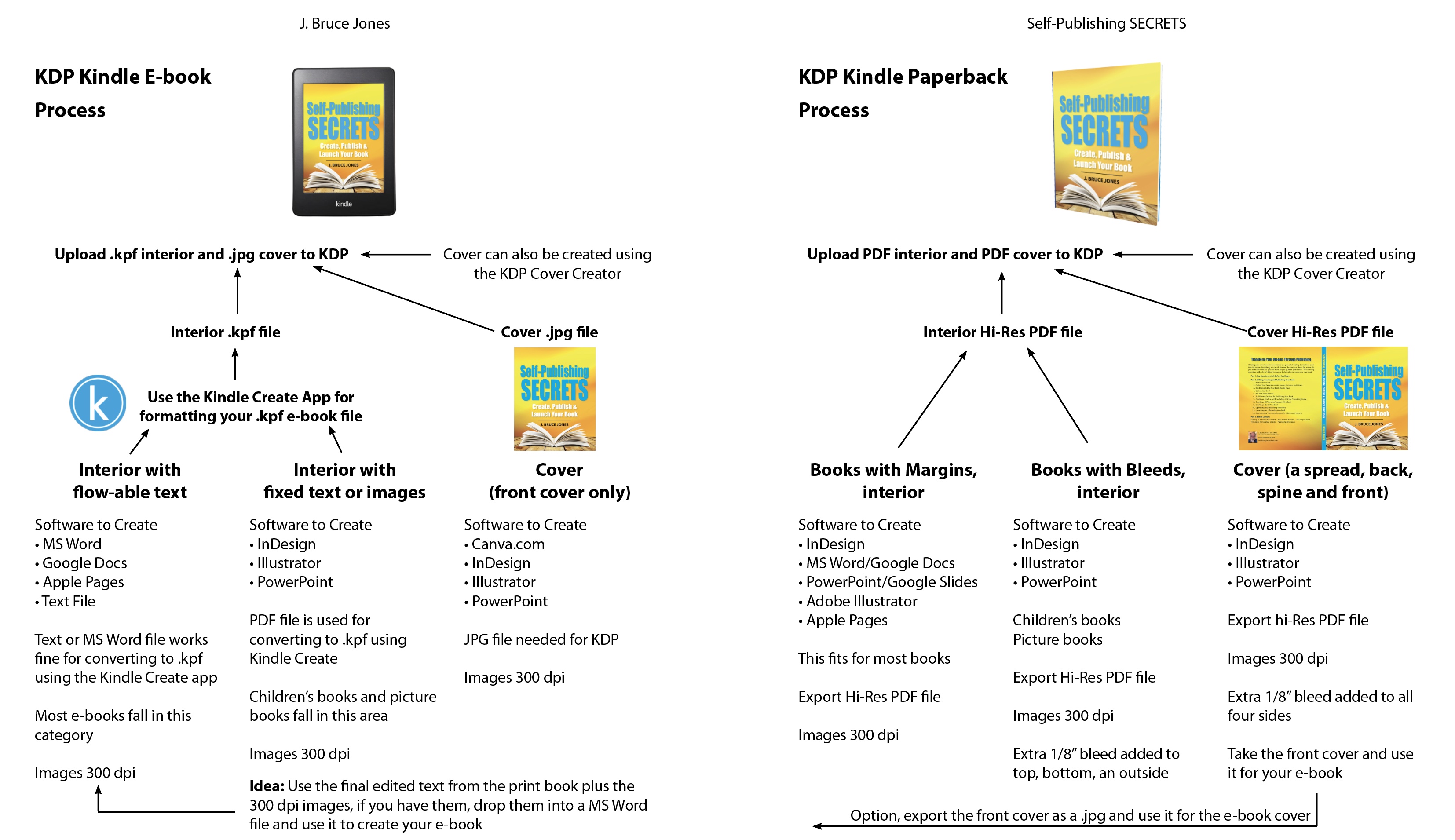 Part 2. Writing, Creating and Publishing Your Book. Part 2 is an overview of the creating and publishing process. I have broken it down into 12 steps. We start by creating the content. Then print or e-book, what is involved and how do you do it, interior and cover. We move to publish your book, how and where it is done and then one of my favorite topics, re-purposing your content for additional revenue. Includes the Self-Publishing Checklist.
Part 3. The Bonus Section. In the bonus section I cover four topics; how to launch your book as an Amazon best-seller with a Best Seller Check List, expanded with more tips and ideas. How to create a book quickly using my Top Ten Technique and we wrap-up with a resource list.
Contents
Part 1. Key Questions to Ask
Key questions to ask before you begin. Includes answers to Where Are You in The Process? Self-Publish or Traditional Publish My Book? Where Do I Publish My Book? Self-Publishing Sites Comparison Chart What is Print-on-Demand Printing? What is Kindle and Kindle Direct Publishing? What is an e-Pub Book? What Programs Should I Use to Create My Book? Can I Create a Hardcover Book? Can My Book Be in Bookstores? How Do I Make an AudioBook? What is an ISBN Number? Who Owns the Book's Copyright if I Publish on Amazon, Kindle/Amazon, or Me? How Do Royalties Work?
Part 2. How to Write and Publish Your Book
Writing the Book
1. Writing Your Book
2. Collect Your Graphics Assets, Images, Pictures, and Charts
3. Key Elements that Every Book Should Have
4. Editing Your Book
5. Pre-Edit Printed Proof
6. Six Different Options for Publishing Your Book.
Creating the Book
7. Creating a Kindle e-book, Including a Kindle Formatting Guide
8. Creating a KDP.Amazon/Kindle Print Book, Inside and Cover
9. Creating a Quick Print Book Publishing Your Book
Publishing the Book
10. Uploading and Publishing Your Book
11. Launching and Marketing Your Book
Re-Purposing Your Book's Content
12. Re-purposing Your Book Content for Additional Products
Part 3. Bonus Content

• Making an Amazon Best Seller
• Best Seller Checklist
• Top Ten Technique for Creating a Book
• Publishing Resources
Add the Bonus Publishing Package to the SECRETS Order
Add the Self-Publishing SECRETS Checklist and The Self-Publishing Book Launch CHECKLIST and Swipe File to your order.

The Self-Publishing SECRETS Checklist takes you on a clear step-by-step process from writing to creating, publishing, and launching your book. This is the companion workbook to Self-Publishing SECRETS above. Plenty of room to add notes, Click on the right.
The Self-Publishing Book Launch CHECKLIST & Swipe File contains all the pre-during-and post-launch checklists I used to deliver a #1 Kindle and #2 paperback Amazon ranking for my book. I also include the social media swipe files and a step-by-step case study of the launch. I wrote this guide while I was launching my book.